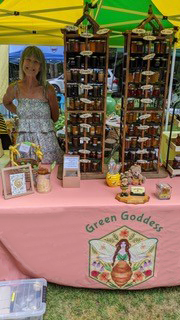 Green Goddess is a small, woman owned apiary in Jackson NJ. Operated by Steffi Main, a backyard beekeeper, Green Goddess offers many varietal honeys, herbal teas & related products.  In addition, we make natural wellness products from hive ingredients. 
Catch us at Brick Farmers Market on Saturdays May-September.  Watch our calendar for other events we sign up for.  We also offer porch pick-up for products ordered in advance at our residential address in Jackson.
Please check out our online catalog to see our numerous honey choices.  You may order thru the website, or text Stefanie 609-276-7725 to order. We also take orders via email [email protected]
We look forward to serving you!